I've talked a lot about Archetypes. As I see it, they're a big part of the book and setting. The world of Bedlam is very character-focused, event-focused. As I write the text, the question "Does this facilitate story?" echoes in my head. Giving you all tools to create your own world, your own characters, your own stories is hugely important to me. And some of the best tools I can give are great Archetypes.
So, I've decided I want to start showing you all what I'm doing when it comes to character. Click the image below to check out the 4pp-spread for one of my favorite Archetypes, The Bulldog. The first step in character creation is picking an Archetype. (If you don't like any of the pre-fab, you go off the Citizen Archetype as the "build-your-own" option.) The Archetypes are designed to help you create an interesting character who's ready to play.
For those familiar with Savage Worlds, the nuts and bolts of character creation are identical. Points are earned and spent the same, with the same limitations. But Bedlam goes beyond that as well with drama- and story-driven Edges, Hindrances, and Skills.
Anyway, enough preamble. Check out the pdf below, and let me know what you think in the comments.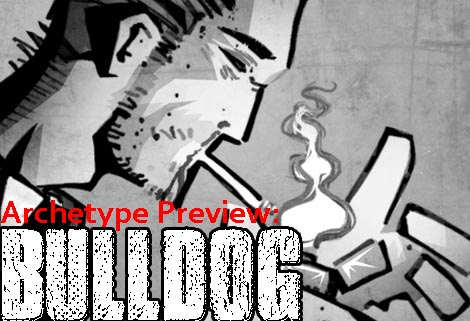 .